Your Water Meter Readings Explained
Most modern water meters have a similar layout, recording in cubic metres (m³) equivalent to 1,000 litres of water, or approximately 220 gallons.
Your meter will look something like the photo below, with the black and white digits recording full units and red digits recording down as low as a single litre. Since water is charged in in full units, meter readings for your bill refer only to the black and white digits.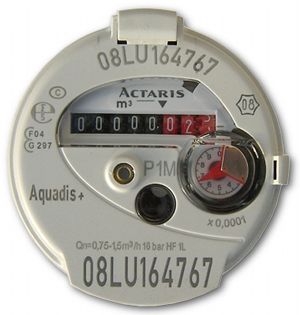 Water meters normally have an indicator that will rotate even when small amounts of water are passing through. If this indicator or the dials continue to rotate even when all your water appliance are switched off, then you have a water leak somewhere after the water meter.